1956-1957
Jane Russell was one of America's first major sex symbols. The actress proved that a covered up one-piece could pack a curvy punch in the more Puritanical mid-50s.
1958
The bikini began to emerge in the late 50s, seen here in the South of France. It was originally invented by Louis Réard in 1946, but wasn't widely embraced until much later.
1959
Elizabeth Taylor stole the show in the film Suddenly, Last Summer with this somewhat baggy white maillot. The relaxed look was a step away from the perfectly coiffed '50s into the looser 1960s.
1960
This gorgeous Slim Aarons photo illustrates the low-slung bikini bottom style of the early 1960s, paired with a strapless top. Consider it a bikini with structure.
1961
A more tailored suit continued to reign as the 1960s went on. A smart woven hat made for the perfect accessory.
1962-1963
Raquel Welch has one of the most famous figures ever in cinema. This halter style two-piece and Barbarella-esque hair showcases the over-the-top mood of the moment.
1964
Iconic actress Sophia Loren wore a super sexy lingerie bikini set in the Italian film Marriage Italian Style.
1965-1966
Sally Field as Gidget was the ultimate surf girl. The sweet pink hue of her suit and pigtails in her hair illustrate the good girl vibe of the mid '60s.
1967-1968
Bathing suits were merging with fashion in the late '60s, exemplified in this photo of model Pauline Stone wearing a petal-embroidered strapless bikini layered under a sheer wide-lapel tunic.
1969
Jane Birkin wore a barely there bikini with a delicate gold necklace, signifying the end of the big-haired '60s and a move into the more natural, bohemian 1970s.
1970-1971
This little gingham two-piece doesn't have the structure of earlier bikinis. It's meant to move with the body and showcased an ease that women were beginning to have in the early '70s.
1972-1973
The original Foxy Brown Pam Grier wore major sunnies and a crocheted bikini top. The look in swim mirrored the look in fashion, which was all about natural fabrics and a less-is-more approach.
1976
In one of the most famous bathing suit photos of all time, Farrah Fawcett set off a trend in plunging one-piece halters with little to no lining. Baja blankets were optional.
1982
Phoebe Cates influenced a generation of young women in this standout red bikini. No one ever thought about exiting a pool the same way ever again.
1985-1986
In current vernacular, the look in swim in 1986 was "extra." Cut super high on the leg, with an open back and low top was the norm. You might throw on a headband to finish the idea.
1987
Goldie Hawn in Overboard was the pivotal look in 1987—in other words look as rich and over-the-top as possible, especially in a swimsuit. Wall Street was on the rise and so was wearing as much gold at once as possible.
1993
With a continued trend towards Southern California cool, Baywatch-style set the tone in the mid-90s with its high-cut red one-pieces. Having curves and showing them off were in.
1994
Belly chains, studding, and barely-there bikinis signified a new look in 1994. While minimalism was embraced by some at this time, others were all about the glam factor.
1995
Grunge made its way to swim in muted tones and oversized bottoms. Bandeau tops were everywhere and so was Kate Moss naturalism.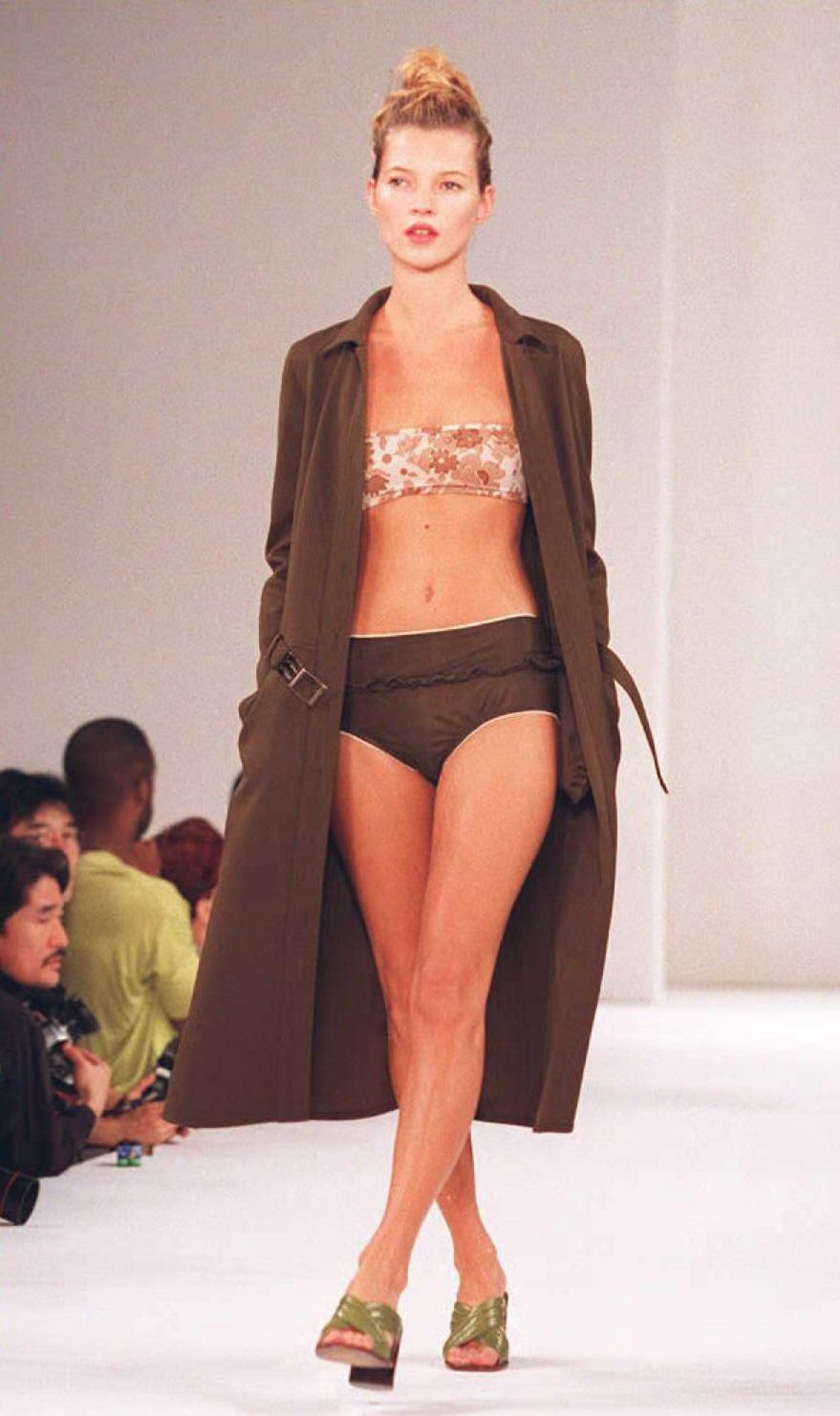 1996
This Salma Hayek swim moment in From Dusk Til Dawn showed that padding was moving into bikini tops and high slung bottoms still had a place in swimwear. Subtlety wasn't for everyone in the '90s.
1997
A one-shouldered maillot with three colors was indicative of the swim look in the late 1990s. Cut-outs and a simple cool factor reigned.
1998-1999
1999 was all about Gisele, polka dots, belly rings and a golden tan. This ultra-low skirt was the ideal cover up at the time.
2000
Elizabeth Hurley showed off her slim figure at the turn of the century as a sexy devil in Bedazzled, which may just be named after her sparkly suit.