Sunglasses are one of the most striking accessories you can wear. Accessorizing is an art form. They not only shield your eyes from the sun's brightness, but they may also quickly upgrade your look and convey a casual elegance. Considering that 2023 will usher in a slew of fresh fashion trends, updating your sunglass collection is essential. These iconic sunglasses will accent your clothes and make you look indisputably stylish. They range from huge classics to daring geometric shapes. Let's explore the world of eyeglasses with these 7 elegant choices that will make you feel stylish and prepared for any day.
Banbé – The Wrap Acetate Sunglasses
Banbé
The Banbe Eyewear Wrap Glasses represent the sunglasses of the future. This ground-breaking style effortlessly fuses the traditional aviator form with a contemporary wrap-around frame to produce an appearance that is both edgy and chic. The svelte acetate frame gives a touch of elegance, while the large lenses offer sufficient coverage. These sunglasses will subtly improve your look no matter where you go—be it to the beach or a downtown stroll.
The Alo Yoga Speed Sunglasses are the ideal option for individuals who value the fusion of style and utility. The sleek, simple form of these sporty-chic sunglasses makes them suitable for both casual outings and exercises. The tinted lenses offer sufficient UV protection while the black frames convey an understated sophistication. These sunglasses are a must-have for the contemporary woman on the road because of their lightweight sensation and sophisticated appearance.
Butterfly Fashion Sunglasses
With these huge square cat-eye sunglasses from MJL Good Shop, channel your inner Jackie O. The hybrid butterfly design skillfully combines a modern touch with the retro appeal of the 1960s. These sunglasses are ideal for both casual and fancy situations because of the large silhouette, which lends mystery and elegance to any ensemble. To complement your particular style and stand out wherever you go, pick from a selection of lens colors.
With the SOJOS Vision Fire Sunglasses, ignite your sense of style. These cat-eye sunglasses have an unusual, angular frame that is both striking and alluring. While the metal accents on the sides offer an edgy contrast, the distinctive shape of the lenses gives a sense of flair to your appearance. These sunglasses will light up your style, whether your goal is to draw attention during a music festival or to add some flair to your regular look.
Oversize Round Sunglasses
1327 OVERSIZE ROUND SUNGLASSES
The Cutler and Gross 1327 Oversize Round Designer Sunglasses are proof that round sunglasses will never go out of style. These sunglasses have big, spherical frames that are retro-inspired, and they have a nostalgic vibe that is hard to miss. They are a flexible accessory for both dressy and casual situations thanks to the tortoiseshell design, which gives a touch of sophistication.
Saint Laurent SL497 Sunglasses with a Rectangular Acetate Frame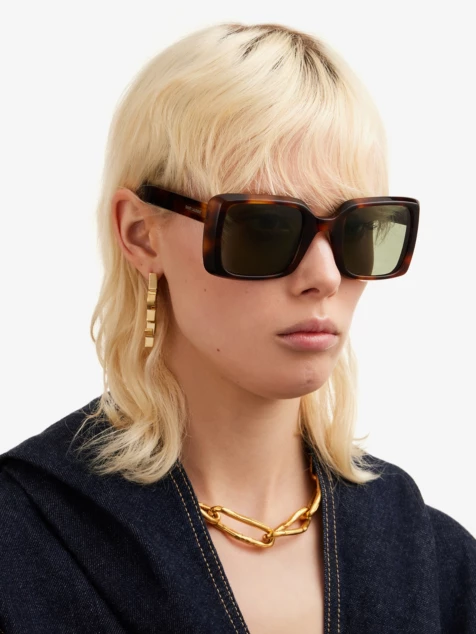 Saint Laurent delivers with the SL497 Rectangular Frame Acetate Sunglasses when it comes to classic elegance. The sleek and simple form of these rectangular sunglasses is ideal for people who value understated quality. The tinted lenses offer UV protection without sacrificing style, and the brown acetate frame warms up your skin. These sunglasses can effortlessly complement your style whether you're touring the city or going to a classy function.
Falabella Pin Hexagon Sunglasses
Falabella Pin Hexagon Sunglasses
The Stella McCartney Falabella Pin Hexagon Sunglasses are a wonderful jewel for fashion-conscious people who adore distinctive and cutting-edge designs. The lenses' hexagonal design gives your look a geometric edge, and the signature Falabella chain trimming on the temples gives them a bit of glitz. These sunglasses are a great statement item for your eyewear collection because they are the ideal blend of high-fashion aesthetics and avant-garde appeal.
Tips on How to Wear Your Sunglasses Better –
Match Your Frames to Your Face Shape – Choose frames with angles for round faces and rounds for square faces.
Size Proportions – For a balanced appearance, choose frames that are proportionate to your face size.
Colors and Skin Tone – Use warm colors for warm skin and cool colors for cold skin tones to match your frame colors to your skin tone.
Choose sunglasses that are appropriate for the occasion – classic for everyday use, bold for self-expression, and sporty for days when you want to be active.
Prioritize UV protection by completely blocking UVA and UVB radiation.
Match your makeup to your sunglasses for optimal cosmetic harmony. Choose a more subdued makeup look if you're sporting vibrant, flamboyant frames. Conversely, if your eyewear is subtle, go out with stronger lip and eye makeup.
Hair Accessories – Be mindful of your hair accessories. Instead of competing with your sunglasses, they should enhance them. Select headbands, hairpins, or clips that complement the frames you have chosen.
Harmonize your makeup and hair with your frames by using neutral makeup for bold frames and bolder makeup for modest frames. Pick hair ornaments that go well with your eyewear.
Choose a hairdo that won't interfere with your sunglasses so they can shine.
Keep in mind that sunglasses are more than just practical accessories as you traverse the world of fashion in 2023; they're also an extension of your individual style. These recognizable sunglasses come in a variety of styles to suit every taste and situation, from giant classics to geometric masterpieces. The ideal pair of sunglasses can be the difference between making the impact you want to make and falling short of it. Whether you want to project elegance, embrace boldness, or simply add a hint of mystery to your wardrobe, the proper pair of sunglasses can help. In light of the fact that your eyewear is the ideal finishing touch to your exquisite style, embrace these contemporary selections and walk out into the world with assurance.