The winter holidays are the best time of the year. First of all, it is the end of a year and you can leave behind all of the troubles and little problems. And second, the most important, it is the time when we spend our time with friends and relatives, strengthening our relationship.
If you search for new ideas for leisure time with your lovely sisters, and can't find anything that would interest both you and them, we suggest you go for holiday manicures together. Wear this Christmas nail style on your nails and enjoy a well-spent time in pleasant company.
RED NAIL STYLE
Christmas time always equals red. Whether it is the ugly Christmas sweater, cranberry sauce, or Santa's red hat. Propose your lovely sisters to rock the bold red shade on the nails. This red manicure is a fresh look into the classic French manicure. The white splashes on a transparent nail bed remind of fluffy snowflakes, which always come before a heavy snowfall.
For romantic personas, who love wearing something soft and versatile on their nails, we've picked this rosy-gray combo. Thumbs, middle, and little fingers are covered in an opaque rosy shade, it is very classy, and versatile. The middle finger is decorated with a sparkly Christmas tree ball. At the same time ring and index, fingernails are wearing milky-gray color, and ring fingers have adorable, white snowflakes on them. No one will be able to take their eye off your nails, girls!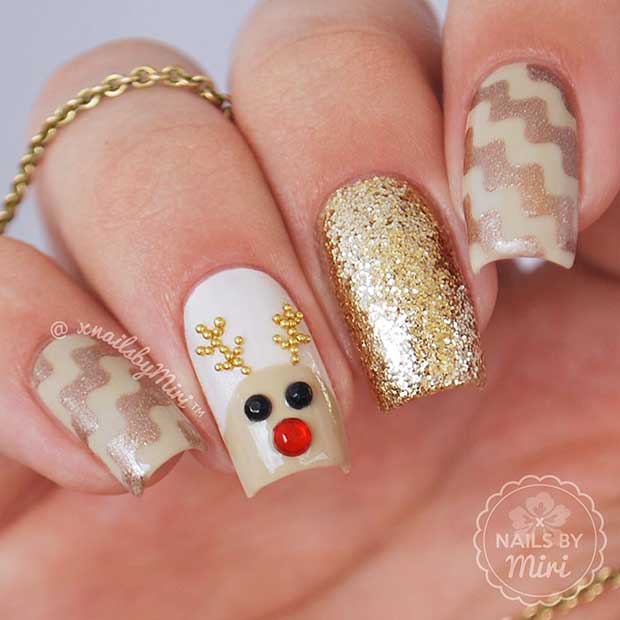 The next Christmas nail style was made especially for those, who love Rudolph the red-nosed reindeer.
A couple of black eyes and a distinguished red nose are the most prominent Rudolf features. Wear this manicure with pride.
GREEN NAIL STYLE
Now it is time for a more trivial holiday nail design. We love the simplicity of this dark green and white look. It is versatile enough to wear to the office or school, yet the sparkly twist adds an unusual festivity to the look. Play around with the shape of the nails and shade of green if you want to personalize this nail look.
Your nail technician will have to struggle with the next Christmas nail design, but the final result will worth all the labor. It is a nail look for a real artist in you. The white background symbolizes the immense snow plain. And the green-gray pine forest, which is been slowly covered in snowflakes, will take you far away from the dusty city. More Christmas Nail Styles look here