Spring brings in a lot of colors but most of all it brings all the joy and happiness that comes with them. Amongst all the colors that we root for so much, green definitely stands out from the rest and makes the best of the color choices that can come with it. Green brings in a lot of radiance and joy when worn and goes really well with the vibe of spring. The color is bursting in the open and is making joyous feats. So let us explore some of the greens that you can own and wear for spring.
We made this lovely swing dress with 100 percent cotton for a soft and breathable fit all day long and completed it with on-trend puff sleeves for a flexible style essential to get you through the warmer months of the year. All you need to complete the look are your favorite sandals or trainers and a charming, ditsy floral. The short sleeves and the swing pattern give off a very comfortable vibe and make you feel all at ease. The dress can be paired with fun sneakers and it is good to go.
With its polka dots all over, this knee-length dress by Sosandar adds a whimsical element to your wardrobe. This garment is defined by a crisp collar and three-quarter length sleeves, making it ideal for weekend strolls across the city or a Friday night out with the girls. The material is a viscose blend so it goes easy on the skin and feels light to wear while the collar style of the dress keeps it casual and airy. So get this dress in your wardrobe and make it look like you own it this spring.
Yumi Khaki Frill Sleeve Maxi Dress is a modern take on a classic silhouette. The nipped-in design that stretches out into a long pleated skirt is complemented by the bold frills that extend from shoulder to waist. The delicate khaki color is effortlessly stylish and looks great with gold accents. The dress is light to wear and goes well with its muted olive green colored shade. The dress is particularly suited for events that require you to dress up for a casual occasion. Get this green in your wardrobe and make things look pretty stylish.
This season, add textured sophistication to your evening wardrobe with Studio 8's Allegra dress. This garment is made of a silky fabric with cap sleeves and a keyhole button fastening at the back for a comfortable fit. This dress is best paired with heels to create a beautiful appearance. It features lace trimming throughout for a striking appeal. This dress will go really well with seasoned parties or even normal get-togethers. Wear your fancy wedges or stilettos with this and you are good to go.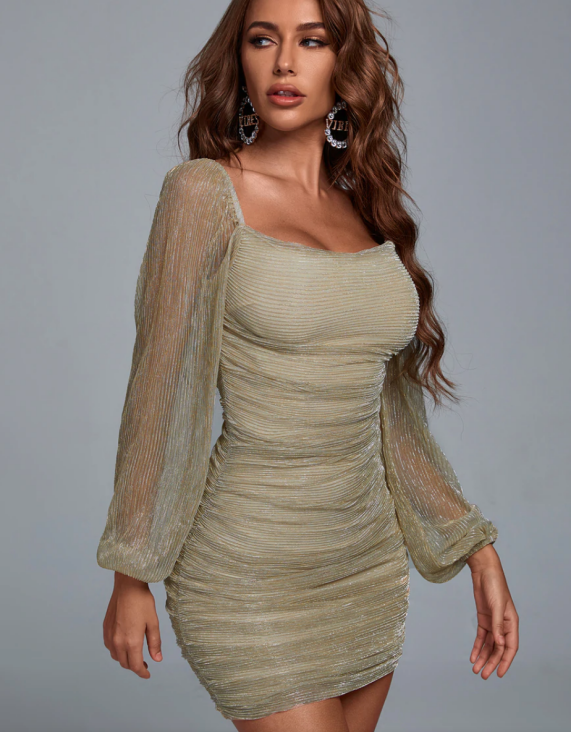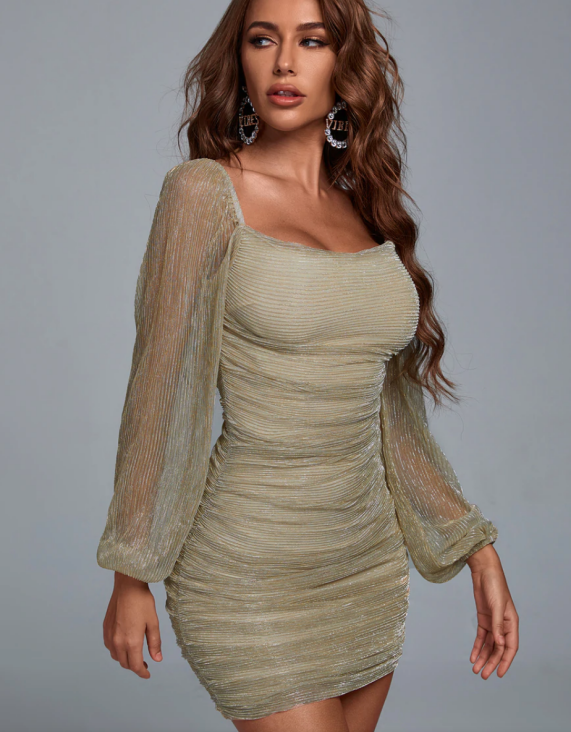 In this Kapo Ruched Mini Bodycon Dress, you can bring the seductive atmosphere to your next party! She has a mini-length, curve-hugging silhouette and a long sleeve with beautiful ruched details. Pair this party dress with a beautiful clutch and elegant hoop earrings. This dress is sleek, and stylish and shows off your silhouette beautifully. The dress will definitely turn some heads.
Spring brings with it a plethora of hues, but more importantly, it brings with it all of the love and happiness that goes along with them. Among all of the hues that we adore, green sticks out from the crowd and is the greatest of the color options available. When worn, green exudes a lot of radiance and enthusiasm, and it combines perfectly with the spring atmosphere. Color is bursting forth and performing amazing things. With these amazing dresses, you can now explore some greens for your wardrobe for the spring.