A wonderful approach to spice up your wardrobe and add some visual interest is by wearing prints and patterns. However, many people find it frightening to know how to wear prints and patterns. We'll give you advice on how to wear prints and patterns with assurance in this tutorial.
Start Small
Start out small if you're not used to wearing designs and patterns by adding them to your ensemble with accessories like scarves, bags, or shoes. In this approach, you may give your clothing a little visual interest without feeling overpowered by a dramatic design.
Mix and Match
Play around with combining several prints and patterns in one outfit. When done correctly, pattern blending may produce a striking and distinctive aesthetic. Try wearing a polka-dot blouse with a plaid skirt or a flowery top with a striped skirt, for instance. Just be cautious to balance the patterns' scale and size to prevent clashing.
BAR III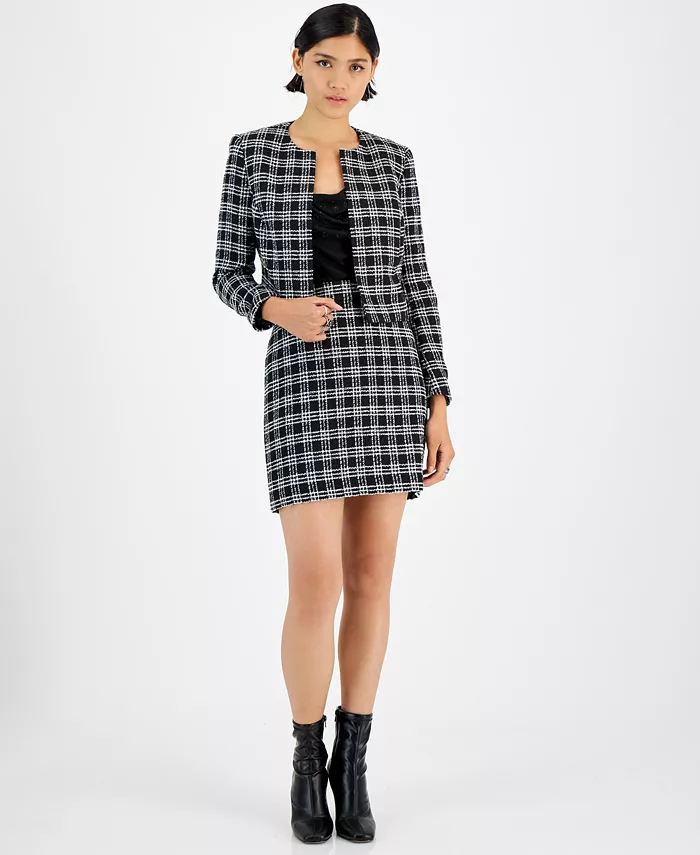 Women's Plaid Tweed Jacket, Embellished Camisole Top & Plaid Tweed Pencil Skirt, Created for Macy's
Stick to a Color Scheme or One Theme
Maintaining a color palette when wearing prints and patterns will help your ensemble look put together. Select designs and patterns with at least one color in common, or combine complementary hues. This will produce a unified and fashionable appearance.
It can be easier to mix and match various clothing patterns and textures if you stick to a single theme for your ensemble because it creates a unifying foundation for your overall look. For instance, if you decide on a boho theme, you may combine various textures like lace, crochet, and suede with patterns like paisley or floral while still maintaining the bohemian look. You can mix and match materials and patterns while still retaining a stylish and unified look by sticking to this theme. By using this strategy, you can avoid having an ensemble that is overly crowded or clashing.
Play with Texture
When worn with prints and patterns, textures may give your ensemble depth and perspective. A floral shirt with a tweed skirt, for instance, makes for a fun and eye-catching ensemble. However, you need to ensure that these different textures have something in common, may it be the design or color so that your outfit will still look cohesive and well put together. To design distinctive clothing, don't be scared to combine various textures.
To mix different textures of clothing through layering, you can start with a base layer and add contrasting textures on top. You could, for instance, layer a leather jacket over a flowing dress and a silk camisole underneath a thick knit sweater. To give your costume depth and appeal, don't be afraid to mix and match various textiles like silk, cotton, denim, and leather. To avoid a cluttered appearance, just make sure to keep the colors and patterns consistent.
Balance it Out
When wearing a striking print or pattern, counterbalance it with something understated and straightforward. For instance, wear a blouse with a strong print with a set of solid-colored slacks or a skirt. This will result in a non-overpowering outfit that is balanced and harmonious.
The key to wearing prints and patterns is to avoid the clashing of different prints. For bold prints and colors, ensure that your accessories or other clothing pieces have muted, and little to no design so that the focus would be on the patterned clothing item.
To balance wearing different patterns, prints, and textures in one outfit, you can start with a neutral base and then add one statement piece with a bold pattern or texture. To unite the various components, you can also mix patterns of various sizes or utilize a color palette. Simple, solid-colored accessories can also help to balance out an ensemble.
The whole point of fashion is to explore and attempt new ideas. Don't be afraid to experiment with new looks or to combine various designs and patterns. You never know what you might find or what might suit you perfectly.
If you know how to wear designs and patterns correctly, it may be fascinating and engaging. Don't be afraid to explore; start small, mix and match, keep to a color scheme, play with texture, and balance it out. With these pointers, you'll quickly feel comfortable wearing designs and patterns.