When you think of Christina Aguilera, Mariah Carey, Britney Spears, Jessica Simpson, and Gwen Stefani, it's difficult to not picture them in their early 2000s outfits featuring the ever-popular low-slung waist bottoms.
Eventually, high-waist skinny jeans took over and made these hip huggers go out of style. However, the sexy low-slung waists are slowly coming back with many models and celebs pictured wearing a pair. If you've missed the old trend, it's your time to hop on its comeback and enjoy dressing up!
Royal Rebellion Printed Low-Rise Jeans
Enjoy some color and rich prints with Versace's wide-leg pants. Featuring the "Royal Rebellion" print which is the house's signature design, you can wear this with a loose printed shirt for a street look. You can also wear it with a white bodycon long-sleeved shirt, and accessorize with a circular dangling earring and half-moon-shaped bag for that classic 2000s look.
Printed twill-trimmed low-rise wide-leg jeans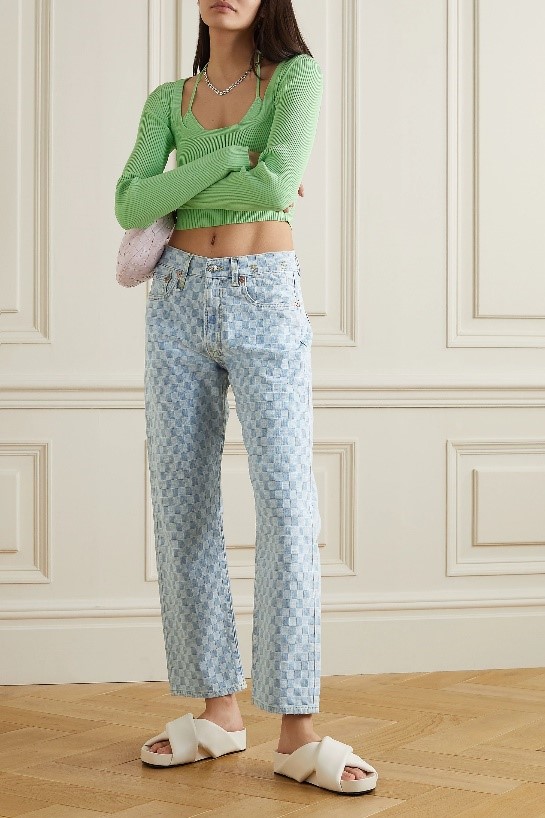 Checkered Boyfriend Jeans
This pair of clean-cut jeans feature a woven and checkered design, straight cut, and low-waist style. Great for casual style, you can wear it with a plain tee for a minimalist style.
You can also wear it with a cropped top or a plain halterneck top. Then, you may accessorize with a name necklace and a pair of slip-on canvas shoes.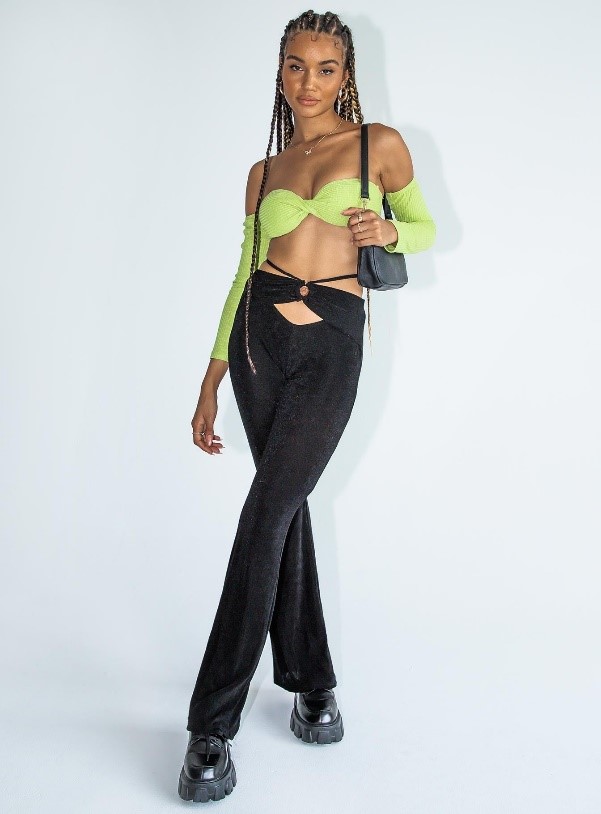 Soft Knit Black Flare Pants
Unleash your inner diva through fashion with this pair of black flare pants. It features a low V in the middle and a high waist on the side of the hips.
This pair is ideal for those who want to wear low-rise jeans but don't like the way muffin tops protrude. The great thing about this is that the sides were designed to cover the muffin tops and slope down to the middle.
Due to the cool designs, a smooth body line is achievable, especially if you plan on wearing crop tops.
Low-Rise Puddle Jeans
Check out the cool swiveling prints of these low-waist pants. It gives off a funky vibe with the illusion-like print that's not boldly seen. The more you take a look at these pants, the more you get hypnotized.
It's cool and definitely edgy. You can wear this with a cold-shoulder top or a cute crop top.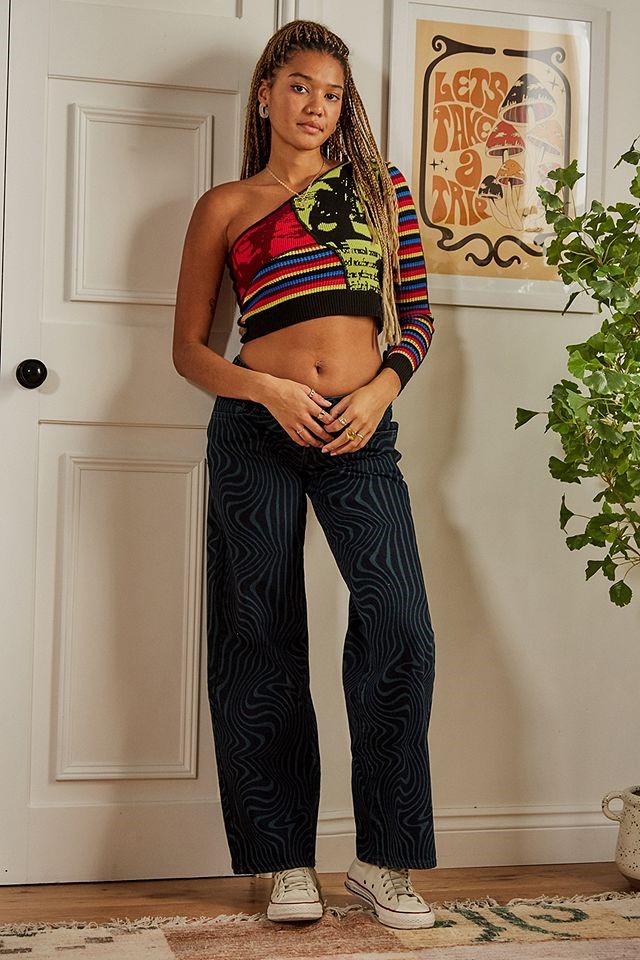 BDG Psychedelic Low-Rise Puddle Jeans
Butterfly Printed Jeans
One of the fun fashion trends about 20 years ago is matching tops and bottoms with cool prints. It lost its popularity over time, especially when minimalist looks became. more popular. This fashion style is also reminiscent of the 80's disco outfits which is probably why it lost its popularity.
Nowadays, artistic and creative outfits are becoming trendier hence the comeback of matching outfits. You can wear the trend with the classic low-waist pants and a matching top.
This set features a beautiful butterfly pattern that looks unique. Even though it has a unique design, its two-color style makes it less glaring, and more artistic.
Pull-On Flare Jeans
Smooth and velvet low-waist and wide-leg jeans were very popular. Back then, you can wear them with a basic polo shirt or a crop top for a sweet look.
For a modern approach, you can wear this pair of pull-on flare jeans with a matching jean jacket or leather blazer for an edgy style.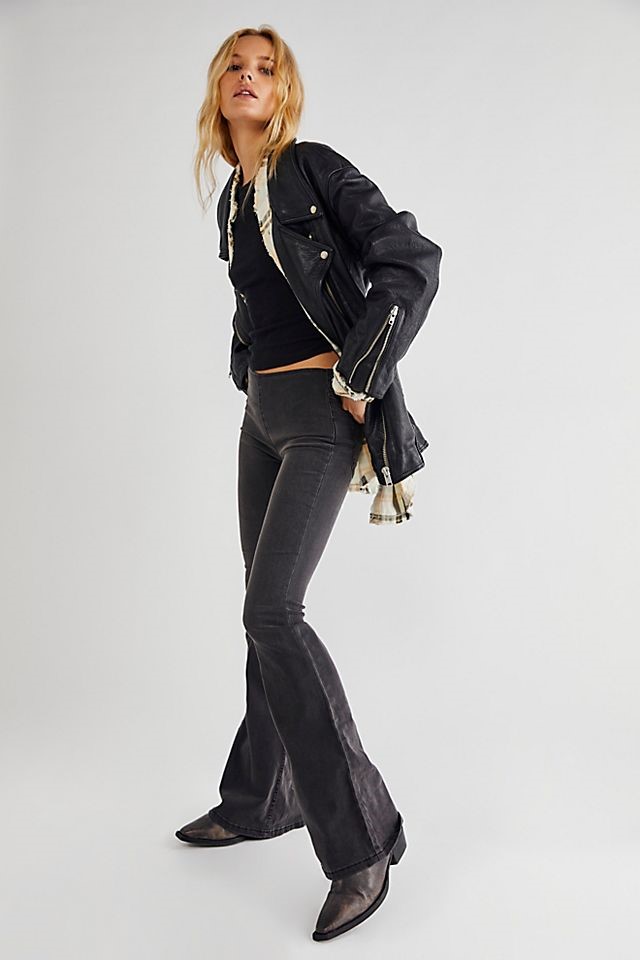 Washed Low-Waist Jeans
Do you remember when you were younger, and you had to fold your jeans a few times so that it's not sweep the floor? Well, that jean style is back again! Wide legs and low waist were the hot stuff back then. If you remember the movie "Lizzie Mcguire" then you would remember how awesome she looked in her low waist and wide leg pants, and semi-cropped tops that show a bit of her tummy and navel.
You can recreate the look with H&M's wide low waist jeans featuring its washed color that looks amazing with light-colored tops.
Unless Your Inner Shakira
Shakira is known for her amazing belly dancing skills which draw focus on her flat tummy and the way her hips move. It is quite visible that even in her regular clothes she looks amazing in low-waist hip huggers.
Famous for her classic MTV looks many years ago, you too can unleash your inner Shakira and let your hips move with your body through these low-waist, ripped, and wide-leg pants.
Shakira is known for showing the vertical middle of her upper body. You can wear it with a sexy top, most especially a V-Neck tie-up cropped silk top. Then you can accessorize with pair of beige or black boots. To complete the outfit, you can add a small ruched purse
Apple Green Low-Waist Leg Trousers
Are you not a fan of sexy looks? Not a problem because you can still join the trend by choosing a pair of colorful low-waist pants like these green low-waist trousers that you can wear with a ruffled sleeves top or a plain top with a cropped tie-up sweater.
This pair has sweet and vintage floral prints that you can wear with any plain top. It's already a statement piece so you can simply complement it with emerald jewelry.
LOW WAIST STRAIGHT LEG TROUSERS
Blocks of White
Try out a dual-color outfit with mere whites and jeans. Check out these straight-leg jeans with blocks of white in the middle which makes it look as if you're wearing shorts. You can wear it with a plain white top, a pair of white athletic shoes, and accessorize with silver jewelry. For the complete look, you can add a jean purse for a cohesive outfit.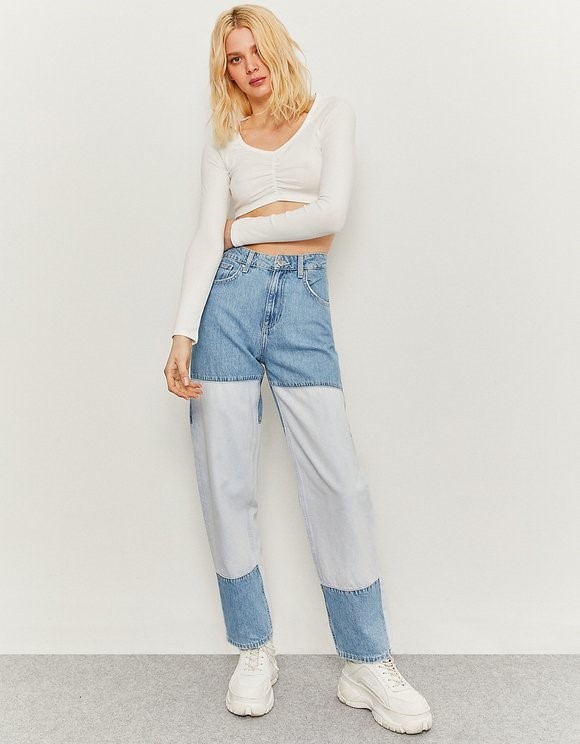 Though low-slung waist bottoms seem like they only look good on petite women, they will look amazing with appropriate styling no matter what your size and body type are. You can find a lot of low-slung pants in cool patterns and designs that you can accessorize depending on the occasion/