2021 is a whole new year to create beautiful memories and experience fantastic opportunities. With what's happening globally, we ought to cherish every moment we have with our loved ones and family. We don't know what will happen to them or us the next day, so celebrating life, both its ups and downs, will help you get through 2021 with a smile. Whether it's for a virtual party, an intimate gathering with your beau, or just a casual day, wearing the trendy outfits below will help you claim 2021 as the year to succeed and flourish!
SPARKLY DRESSES
Sparkly dresses have always been popular but this new year, rose gold and silver would be perfect to wear and claim a prosperous life! Those sparkles will give you a ray of hope.
You can easily pair these dresses with a pair of cute nude or white pumps for a classy look.
KEEP IT SIMPLE WITH A BLACK DRESS
Take advantage of your black dresses in your closet by pairing them with a pair of strappy stilettos! Style your hair up in a cute updo with side fringes for an innocent and stylish look.
If a black dress with embellishments is too formal for you, choose a black sweater dress that you can wear with stockings and a pair of slouchy boots that's also winter-appropriate!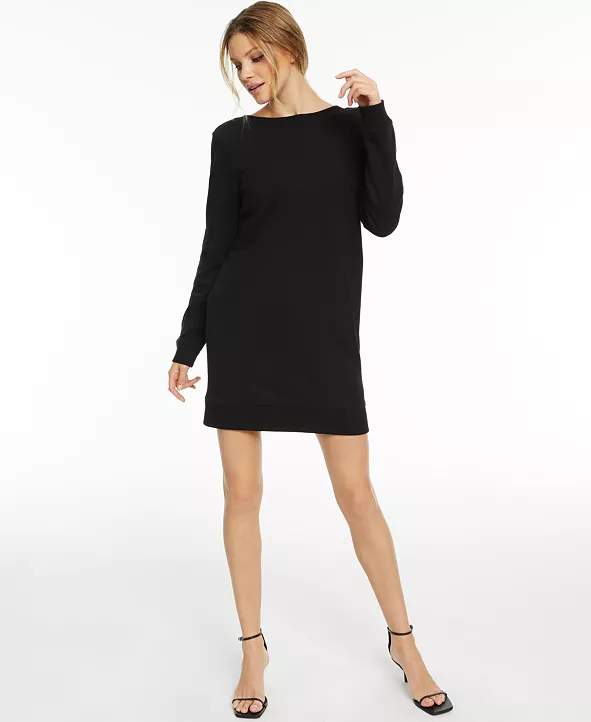 CULPOS x INC Embellished V-Neck Sweater Dress, Created for Macy's
BE CUTE WITH A SLIT MINI DRESS
Both metallic and bodycon dresses are in for 2021. Look fashionably cute in a bodycon slit mini dress if you're in doubt whether an event's formal or casual. You can't go wrong with a sophisticated bodycon!
For a semi-formal and chic look, put on a pair of square-toe heels, and accessorize with a soft leather clutch. You can also put on a chunky silver necklace for that cute edge to your look.
PRETTY IN A PLAID SKIRT
Plaid is always in style. Whether you're going for a preppy and feminine look or edgy style, you can still work around plaid skirts.
Winter won't end until March, so wearing a thick and cozy sweater, a pair of anti-slip boots, and stockings will keep you from freezing. To accessorize, you can get a couple of stud earrings and a three-layer necklace.
MONOCHROMATIC
If you want to save money and maximize the use of the clothes you already have in your wardrobe, choose to go for a minimalist style that's both elegant and versatile. You can lay out your clothes and check for pieces that are almost the same color.
Monochromatic looks are very aesthetically pleasing, so you can always play around with clothing items in your closet with similar hues and add a few pieces of jewelry with metal that best matches your outfits.
AESTHETICALLY BEAUTIFUL IN A CROP TOP
One of the trendiest clothing pieces in 2020 that will carry over to 2021 is matching crop tops and skirts. These are very reminiscent of the early 2000s but with a modern twist.
If you're not sure how to hop on this trend, your safest options are pastel button-up crop tops and skirts. You can accessorize with cute loafers or a pair of nude pumps.
Ribbed Buttoned Lettuce-Edge Crop Top
SIMPLE AND SASSY
Do you want to look professional and straightforward yet sophisticated during those Zoom meetings? Pair a thick red long-sleeved sweater with a pleated or pencil skirt for an office-appropriate look even while working at home.
Red often symbolizes luck, prosperity, passion, and courage. Hence, if you want to be abundant with financial and career growth, wearing something red wouldn't be such a bad idea both for inspiration and hope.
COZY AND CASUAL
Fuzzy Knit Sweater Dress Pom Pom Beanie Ancient Coin Pendant
Give life to your outfits with a pop of red. Why not match winter with red color for a bright yet simple look? You can choose a fuzzy knit sweater dress and a pair of metallic boots. You can even put on white leggings or stockings to keep you warm. To accessorize, a red beanie with a statement bracelet or necklace will give personality to your look.
2021 is still unknown to many of us, and if dressing up to celebrate the start of a new year will make you feel somehow hopeful for the coming days, why not? You must have some normalcy in your life, do what you love, and focus on the joys of still being alive. Fashion is a lovely way to distress by being creative with your daily outfits!