It won't be wrong to say that sometimes women take care of their hair more than that their health. They are found doing everything for their hair, from using an effective shampoo-cum-conditioner to oiling them often. But what is disappointing is that even after doing so much, sometimes their hair gets damaged or looks rough, and thus it affects their overall appearance. What could be wrong here is the choice of the wrong hair brush.
A hair brush is no doubt an essential item in every woman's beauty kit, but it often gets the least attention. When you need to detangle your tresses to help you style them or to redistribute the oil from your scalp, a hairbrush is something that comes in use. So it's very important to get yourself the best hair brush So let's discuss different types of hair brushes and find out the best one for you as we proceed.
CHOOSING A BRUSH BASED ON OUR HAIR TYPE
One thing to consider before choosing a brush is the type of hair you have. It is really important to choose your hairbrush depending on the length and texture of your hair. Those who have long and thin hair should go for a paddle brush or flat brush with boar bristles as it will work smoothly. For those who have straight hair, a paddle brush is an ideal choice for the problems that arise with curly hair. In such cases, as suggested by many hairs exerts a wide-tooth detangling brush can help you in the best way.
There are many different types of hairbrushes and combs available in the market. What is left to do is to find out the one that is right for you depending on your hair type. So let's discover them below.
Hair detangler brush
Just as the name suggests this brush comes in use when you need to detangle your messed-up hair. Detangler brushes are proven to be good for all hair types. One can use it in both dry and wet hairs. These types of brushes usually minimize the damage from brushing knotted hair. These brushes also have thin flexible bristles which make it easier to painlessly get knots out of a kid's hair.
Shower hairbrush
Shower hair brushes are those types of brushes that are specially for wet hair and are made in a way that they have vents within them that leads to faster drying of the hairs. They have an extremely flexible design and many bristles which are for combing wet hair.
Cushion brush
Cushion brushes are those types of brushes having a soft rubber base and stiff wire or sometimes plastic bristles. The stiff bristles present in it are very effective in stimulating our scalp. These brushes also help to remove dandruff from our hair and support hair growth.
Paddle brush
Paddle brushes can be one of the best options for those people who have long and straight hair These brushes usually have a wide base and so they are capable of capturing a lot of areas quickly while smoothing our hair
Anti-static hairbrush
Another type of brush that can meet our expectations is the anti-static hair brush. These types of brushes allow heat to flow through them and thus help to illuminate static and frizz. Ionic brushes are claimed to reduce static and frizz from our hair. They do this by adding negative ions into our hair.
Round brush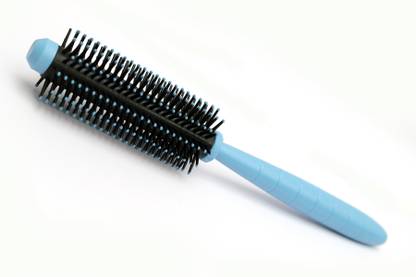 Round brushes serve as the perfect ideal choice when it comes to blow-drying air and styling loose e name suggests, these brushes are completely circular and blow the hair under, which finally results in curls or waves in the hair.
Teasing brush
Teasing brushes are comparatively smaller brushes that are designed for some special purposes. One can use these brushes to add volume and texture to fine or limp hair, as it helps to create some sort of illusion of fuller hair. All those who have had hair loss should try this brush to get a better hairstyle.
The best type of hairbrush for long hair
The best type of brush for long hair is the Paddle brush. It goes well with long hair as it allows you to brush through a large portion of hair at once and also helps in eliminating knots in the hair.
The best type of hairbrush for curly hair
Curly-haired women are highly recommended to use a sturdy, wide-toothed comb while they are in the shower. In this way, they can prevent their hair from breaking down.
The best type of hairbrush for straight hair
A brush with a rubber pad on it does the most good to straight hair. Paddle brushes are really good as they can accumulate much hair on go and as it also helps in redistributing oil throughout the scalp.