White suits for formal events or office work have increased in popularity due to their powerful, empowered, and confident symbolism in a male-dominated setting. Women usually wear white suits as a feminine version of men's suits in their wedding, formal business meetings, and dressed-up events.
Contrary to popular belief, white suits are also fabulous to wear in casual settings. A pair of white slacks and a well-tailored women's suit with a cropped top is fitting for a date, brunch, a typical day at work, and even doing casual errands.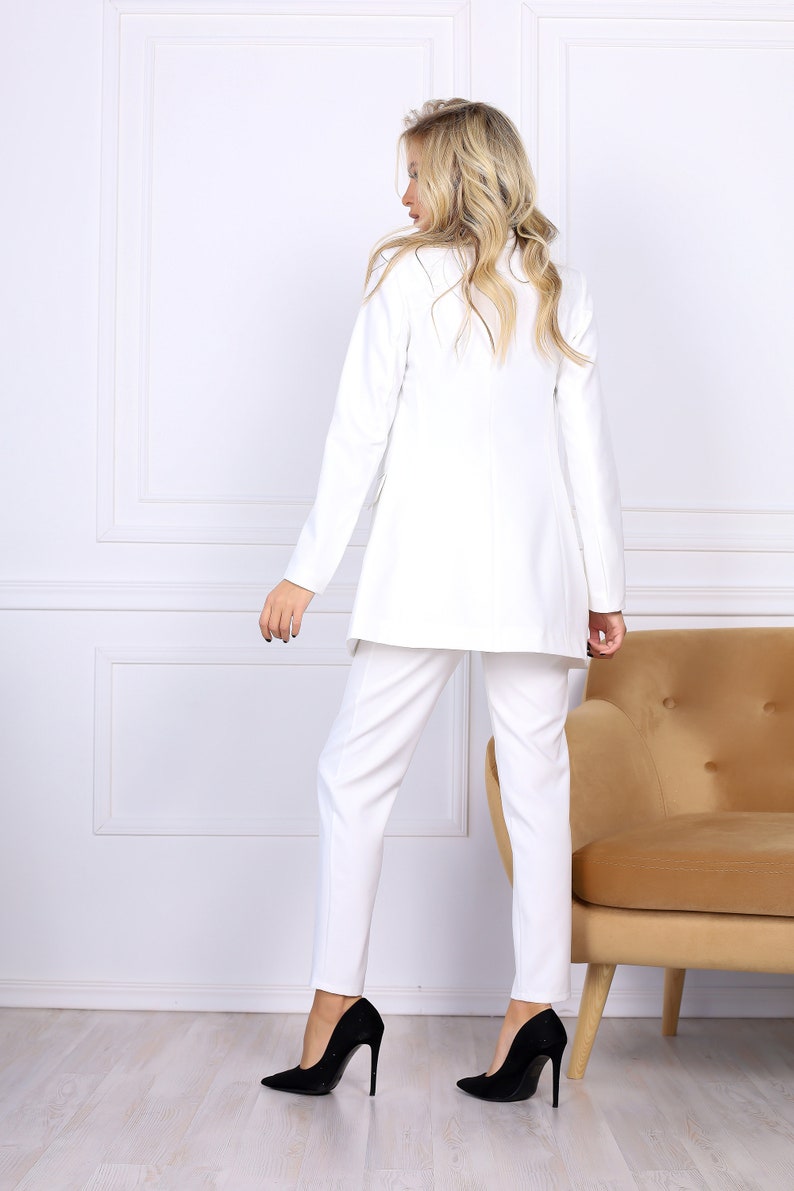 Your shoes play an essential role in how you're going to look with your suit. If you wear a pair of high heels, you'll look more formal, but if you wear a pair of white sneakers or sandals, your outfit tends to look more relaxed and more fitting for casual events.
Instead of getting a plain white suit, another option you can do is get a vertical-striped suit to help your body the illusion of a slimmer and elongated look. It's an excellent choice if you're not too tall and if you want to have a boost in your physique.
One way of wearing this pinstripe suit casually is by wearing a silk camisole underneath and leave the suit unbuttoned for a relaxed look. You can also fold the hem of the pants and wear a pair of flats or white sneakers. Ensure that your hair isn't too well-done, or you'll look more formal.
If you're not a fan of matching suits and pants, a statement women's suit from Calvin Klein will do the trick! You can rock a street-style outfit with a Plaid Woven One Button Jacket and wear it with your favorite shirt. Complete the look with a pair of jeans or shorts and your cool pair of kicks!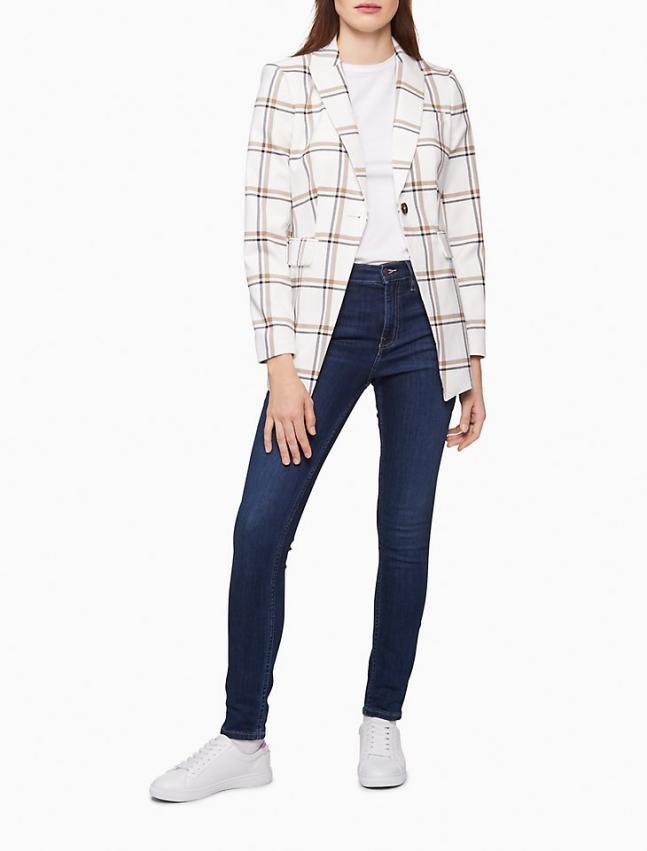 Models are known to rock this look if they want to look effortlessly put together. To add a nice little touch, put your hair up in a bun for that nice but messy look.
Are you going out for a quick errand but don't want to compromise your fashionable dignity? A lovely Duchess Wool Blazer with a pair of vertical-striped shorts with a belt will do the trick in making you look classy but casual. The white color and the suit will give you a sense of elegance while doing regular activities outside.
A pair of white, beige, black, or grey slippers will tone down the suit's formality even more. A basic tank top underneath is enough because the simpler the outfit, the more sophisticated it'll seem.
It's probably been a long time since you and your girlfriends have been on a shopping trip or had a get-together. If you and your friends have been planning on having a girls` day, a casual but still gorgeous outfit is a must!
You can never go wrong with a Gucci Double-breasted Wool Jacket. Despite the price, it is a worthy investment because of its ivory wool blend, boxy fit, and iconic style. To ensure that you're not too overly dressed, wearing your suit with a cute pair of black shorts and Gucci sandals will keep you fashionable but casual.
One of the suits that many women fail to include in their wardrobe are cropped suits like Gucci's Wool Silk Cropped Jacket. It looks like a private school`s uniform, but the cropped jacket can provide versatility when styling it casually.
Now that it's pretty warm, wearing a cropped suit and a pair of shorts or skirts seems like an appealing idea. It'll look casual and wearable even if you're going for a coffee run or a visit to your friend's or family's house.
Indeed, wearing white suits allows women to look classy yet casual, depending on how you style them. You can always tone down the formality of suits by wearing shorts and miniskirts instead of pants, sandals, slippers and sneakers instead of heels, and using less extravagant pieces of jewelry.