Are you one of those ladies who love being cooped up in something cozy and warm? If so, cardigans and jackets are probably a staple in your daily outfits. You can't be blamed though! They're fuzzy and give a sense of warmth and security around us wherever we go.
There are many basic cardigans that you can get both in-store and online, so it feels like nothing new. However, you might just want to check out this possible addition to your cardigan collection that will give you a brand-new look:
Color-Block Cardigan
Bring dimension to your summer outfits by wearing a pop of color through a long cardigan. This is ideal to wear even with casual outfits. Here are several combinations you can do with a yellow and purple color-block cardigan:
• Classy Beach Look: Light Yellow Maxi Dress + White Flat Sandals + A Pair of Pearl Earrings + Statement Necklace
• Summer Shopping Trip: Cami Bodysuit + Tweed Mini Skirt + Square-Toe Sandals
• Sunday Brunch: White Frilly Dress + Gold Strappy Sandals + Yellow Mini Shoulder Bag
Yellow and purple go so well together and looks unique, especially for a summer look. You can even wear matching eyeshadows and a hint of glittery yellow eyeliner for dramatic and pretty makeup.
Cropped Floral Cardigan Sweater
Achieve a trendy laidback look with a cropped cozy cardigan that you can wear with any summer outfit, especially if it gets chilly in the evening. It has an embroidered floral design which makes it less boring, and more feminine. The black color contrasts its floral design in a modern and stylish way. This is definitely a piece that you might want to wear often.
A cute Forever 21 cropped sweater is a sure way to hop into a youthful and trendy look.
Embroidered Floral Cardigan Sweater
Tweed Cardigan
Don't ruin your expensive and statement office tops with boring cardigans. Instead, invest in a good tweed cardigan that will add a touch of classiness and formality to your outfits.
If you`re the type who`s used to wearing casual and even street-style outfits, you may have some difficulties shifting to something a bit more formal. A tweed cardigan will save your day, especially for important events where you have to look a bit more dressed.
Oversized Knitted Cardigan
Be pretty and relaxed with an oversized cardigan that you can wear both at home and at the office. It has a laidback fit which is perfect for those lazy days where you just want to wear a plain old shirt and a pair of wide-leg pants. It is easy to be stylish with this cute cardigan by pairing it with basic tops.
It has a soft and boho feel to it that makes you want to always be stress-free and just look gorgeous. It`s easy to pair with other tops since it will cover most of your upper body. If it`s too hot, you can simply wear a camisole underneath or a tube top.
Long Boho Cardigan
Going to a summer fest or concert? Reminisce 2015 with a boho style with a cardigan with cool and soft hues. You can wear a pair of ripped jeans or shorts, and a plain shirt. This is because the cardigan itself is already a statement. You can wear it with matching colored accessories for a cohesive style.
It has amazing prints that don`t hurt the eyes and actually go well with each other. However, avoid over-accessorizing to prevent looking too overwhelming.
Jeans-Like Cardigan
Achieve a street-style look with a cardigan that has a beautiful shade. A plain white tee and a pair of jeans with some cool kicks to finish off the look.
Adding a vibrant jeans-colored long cardigan to your outfits can give you a futuristic and stylish approach.
Lemon Blossom Cardigan
Prim and proper are what describe this lemon blossom cardigan. It has just the right length to ensure that you look adorable with any skirt. You can best wear it with miniskirts, or colorful pants.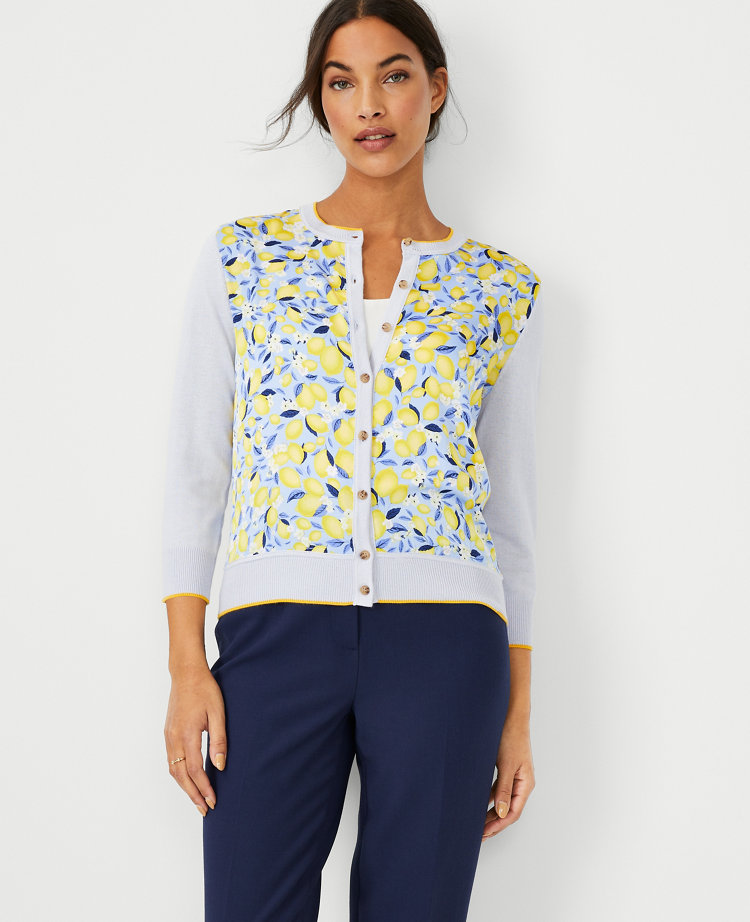 Mixed Media Lemon Blossom Ann Cardigan
Definitely not the usual, delight with something new to keep you feeling fuzzy no matter the season! They're trendy and a great statement piece to your daily looks!